New Feature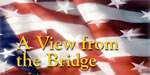 BogusAmericanUS—A new blog exploring how America needs to change if it is to survive as we know it.
A View From the Bridge—new perspectives on politics and culture in America.
---
The Bridge to the 21st Century

Reflections on the Soul of a Nation

by Cary Coole
Upcoming Events
Book Signings -
The Bridge To The 21st Century
Watch for up-coming events to be announced!